Meet The Team
Extraordinary Team Of Passionate Walk Leaders
Get Outside, Get Inspired
Our walk leaders come from a variety of backgrounds and represent their local area. Each has attended and passed a walk leadership course.
Emily Wright
Walk Leader - Daventry
Emily is a very keen walker and known locally for her mad "Ultra hiking" challenges.  She loves very long walks and this will be her focus for the AG club as a walk leader. Keep an eye out for "The Extra Mile" walks, plus rapid rambles (short but fast walks) from March 2022.
Kelly Costello Cox
Walk Leader - Hardingstone
Kelly joined AG during the pandemic and she is full of energy and is a keen walker.  Having qualified as a walk leader just 6 months after joining, we are so happy to have her on board.  You can't miss Kelly as she loves her Lucy Locket very loud leggings!
The Stern's
Walk Leaders - Towcester
We were delighted when Michael & Shirley Stern joined Adventure Geek in August 2020, as they bring such energy to the group.  They are both keen Nordic Walkers and you will often see them striding out with their poles tapping away on the ground.
Emma Sapsford
Walk Leader - Towcester
Emma joined Adventure Geek during the height of the pandemic. Emma has since completed the Pyrenees mountains and numerous long walks with the club.  Emma is the person who always thinks of everyone else before herself and has a heart of gold.  A valuable member of our walk leader team.
Alison Snelling
Walk Leader - Northampton
Alison joined AG in December 2018 along with her husband Len and chocolate labrador Millie.  Known as The Navigator as Alison loves to explore new places, whether that is by land or sea.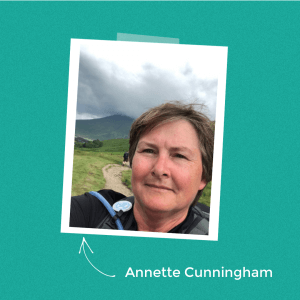 Annette Cunningham
Walk Leader - Braunston
Annette (also known as Netty) joined AG in August 2019 and is a keen walker.  You will often see Annette with a black labrador called Poppy.  Known as the Relive Maker as Annette loves to use the application called Relive to create memories of her walks.
Claire Jenkins
Walk Leader - Daventry
Claire joined AG in 2021 and has a real sense of adventure.  Claire is originally from Wales (a keen Rugby supporter), but has lived in Daventry for a few years now and knows the area well.  Although Claire has enjoyed walking for many years, completing the Mighty Hike Challenge for MacMillian (26 miles across the Jurassic Coast) in 2019, sparked a new found love for the great outdoors.
Rebecca Dearing
Walk Leader - Crick
Rebecca loves hiking and you will often see her out with Pepper the dog and Sally the big red rucksack!  Rebecca is an experienced walker and has completed many longer trails both in the UK and abroad.  Pepper and Rebecca having been familiar faces with the AG walking club since 2019.
Paul Coxon
Walk Leader - Crick
Paul is an experienced walk leader having worked with the scouts for many years.  He has also accomplished some fantastic personal hiking goals which included Kilamanjaro.
Georgia Francis
Walk Leader - Northants
Georgia joined AG in October 2021 and qualified as a walk leader in January 2022.  You will easily spot Georgia on an AG walk as she is accompanied by her gorgeous dog, Belle.  Georgia may be one of our youngest walk leaders, but she has bags of hiking experience and also has natural leadership skills.  Welcome to the clan Georgia!
Rachel Cooley
Walk Leader - Northampton
Rachel joined AG in August 2020 right in the middle of the pandemic!  She loves the outdoors and a good map! One of her favourite places to walk is the Lake District, no matter what the weather!
Paula Cannon
Walk Leader - Rugby
Paula joined AG in April 2022 and is a keen hiker from Ireland.  We are working with Paula to establish some walks and weekend adventures in Ireland, but in the meantime, Paula is writing and leading walks in the Rugby area.
Mike Wilcox
Walk Leader - Duston
Mike joined AG in October 2019 and has been with us since the early days.  Mike is often seen walking with his beloved dog, Spock (yes, Mike is a Star Trek fan!) who snorts very loudly when he gets excited for his walk (the dog, not Mike!).  Mike qualified as a walk leader in January 2022 and is looking forward to leading some local walks in the coming months.
Tina Pamplin
Walk Leader - Flore
Tina joined AG in November 2021 and qualified as a walk leader in January 2022.  Her vision is to launch the "Sapphire Walks" for the club which is slower-paced and shorter walks aimed at those who are just starting out in their walking journey.  Tina has been running her own health walks in Flore for a while now and is excited to share her love of walking with more people in Northamptonshire.
Jane Ward
Walk Leader - Towcester
Jane joined the Adventure Geek family in January 2022 and qualified as a walk leader at the end of the year. In October 2022, whilst hiking the Pyrenees stage of the Camino Frances with AG, Jane caught the Camino 'bug' and is now hoping to complete the trail to Santiago de Compostela later this year – just 450 miles to go!
Paul & Soup
Walk Leader - Oxford
You may be thinking "Soup" is a funny name, so let me explain.  Rather than calling Susan "Nanny Sue", her grandchildren would say "Nanny Soup" and the name just stuck.  It works well for Adventure Geek as we have many "Sue's"!  Paul & Soup are active AG members and have been since June 2019.  They have both completed various running charity events and Soup has also completed the 84-mile hike along Hadrian's Wall with AG in Sept 2020.
Ellie Walsh
Walk Leader - Milton Keynes
Ellie originally signed up to walk Hadrian's Wall with us in August 2021 raising money for Willen Hospice.  Later that year she made the decision to join as a full member and has been a breathe of fresh air to the club. Ellie always has a smile and a little yellow rucksack!  She trained as a walk leader in 2022 so watch out for more Milton Keynes walks in the future.
Gillian Lucas
Walk Leader - Milton Keynes
Gillian joined AG in May 2021 and has since then been a regular face on all sorts of walks.  Her favourite walks are the morning miracle walks and she is often accompanied by a little working Cocker Spaniel called Darcy.  Gillian trained as a walk leader in November 2022 and is keen to establish more walks in the Milton Keynes area for the future.
Pat Knight
Walk Leader - Daventry
Pat joined AG in December 2019 and stayed with the club all the way through the pandemic. If Pat is not walking her gorgeous rescue dog Draco, then she will be knitting!  She knits all sorts of things for charity, including the SHOUT knitted Christmas Decorations.  We love Pat!
Martin Harrison
Walk Leader - Coalville
Martin is a natural walk leader and has been organising walks for friends and other walking groups for some time.  He is keen to launch AG walks in the Leicestershire area and we are excited to watch this area build over the coming months and years.
Len Snelling
Walk Leader - Northampton
Len joined AG in December 2018, along with his wife  Alison and dog Millie.  In his spare time, Len is a keen sailor (hence the nickname of Skipper) and also enjoys long distance hiking all over the world.
We'Re Creative
Our walk leaders create trails that have variety and interesting things to see.
We'Re Passionate
We are passionate about getting people outside to explore parts of your local area that you may not have seen before.
We'Re Awesome
The AG Walk leaders are AWESOME! Professional, fun and the above all, safe.