SUPERMOON WALK | SWEETS BY THE LIGHT OF THE MOON | NORTHAMPTONSHIRE
January 21, 2019 @ 6:15 pm

-

8:30 pm

GMT
Look to the skies! On 21st January 2019, the world will be treated to a spectacular supermoon display, the full moon appears to us significantly bigger and brighter than usual as it rises into the winter sky.
WALK LEADERS: Julia & Rachel
MEETING PLACE: Badby Woods Car Park, Chapel Lane, Badby.
(Note, please arrive by 6.15pm, we will set off at 6.30pm)
ABOUT THE WALK – grade: Moderate Plus, Plus 
We will set off promptly at 6.30pm as we have a longer night than usual.  As we make our way into Badby Woods, I must insist that torches and lights are switched on.  We will be walking carefully as there are fallen trees to negotiate, and muddy areas, slippery leaves etc.  You are in for a true adventure tonight, so please make sure that you bring everything listed below.   There are quite a few steep hills and declines within the woods.  After two miles, and a bit of a climb we will reach a kissing gate, where I will ask everyone to turn off their torches and lights.  We will take a few minutes to catch our breath and let our eyes become accustomed to the beauty of the night as we step out onto the most amazing vista.  We will soak up the wonder of the supermoon (I really am wishing for a clear sky!), and enjoy a few sweets and a drink or two.  For the next two miles, we will be walking by the moonlight only, which includes a walk through a church.  Please be aware that we have a very long hill on the way back towards the woods for the final stretch, and then torches will be on again.
AFTER THE EVENT
For those of you who are interested, we will probably grab a drink at the end of the walk. Everyone is free to join us.
*** IMPORTANT ***
FITNESS – This walk is over 5 miles and quite strenuous.  We will have a tail walker, but please only attend this walk if you are capable of walking this distance with a few hills thrown in.  It is a "MODERATE ++ Walk".
TORCH – Lights are compulsory on this particular walk.  As mentioned above, we have lots up roots to negotiate and fallen trees to climb over.  This is an adventure, so please be prepared.  We may need to turn people away who are not adequately prepared.
SHOES – Adequate footwear is also compulsory.  Walking shoes, trail runners, or good quality wellies are essential.
WATER – It goes without saying that this is a 5-mile hike, and quite strenuous, therefore a drink in your pack/pocket is a no brainer.
* Money for a drink in the pub afterwards (not essential, but everyone is welcome).
MEETING PLACE MAP: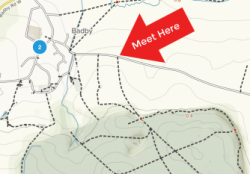 SCOPE WALK VIDEO:
TERMS AND CONDITIONS
There are no permissions expressed or implied by the Adventure Geek organisers. Participants make use of the facilities at their own risk and without express permission from the Adventure Geek organisers.
Walking is a physically active sport. If you have any doubts about your abilities, you should always seek advice from your GP before embarking on an Adventure Geek walk.
By registering for an event you accept that you do so entirely at your own risk and that it is your responsibility to ensure that you are fit and able to take part in the event. We regroup often and our walks cater for all levels of fitness.
Children under the age of 16 years old are the responsibility of their parents or guardians and need to be accompanied at all times before, during and after the walk.
Adventure Geek volunteers do not accept responsibility for injury, loss and damage sustained by a participant unless the above injury, loss and damage are proven to have been caused as a direct result of negligence on the part of the organisers.
Dogs are welcome on the majority of our walks, however, we kindly ask that only one dog per walker and that the welfare of the animal remains your responsibility throughout your walk.  On occasion, we may add a note of "No dogs allowed" on specific walks (usually those with cattle), please respect this note.