STONEHENGE & BROAD CHALKE WEEKEND ADVENTURE
January 22 @ 9:45 am

-

January 23 @ 2:30 pm

GMT
A weekend adventure in Wiltshire, led by a local walking guide, Lou Stuart. See the iconic Stone Circle of Stonehenge and more
This weekend adventure is being led on both days by local walk leader, Lou Stuart . (visit her website here).
Day 1 – Saturday 22nd January 2022
Join us for an approximate 11 mile walk starting from Broad Chalke.
This pleasant Wiltshire walk starts from the village of Broad Chalke with a visit to the Fovant Badges. Along the way, the route crosses some fine rolling countryside and passes the Iron-age fort at Chislebury. This walk is quite challenging due to the ups and downs but the views are amazing! A packed lunch will be required, and we will stop at the cafe at the end of the walk.
Day 2 – Sunday 23rd January 2022
A shorter 4-mile walk which includes the wonderful views of Stonehenge.
The Stonehenge landscape is a UNESCO World Heritage site containing not just Stonehenge but Woodhenge, the Durrington Walls Superhenge, Neolithic barrows, the Cuckoo Stone and a 3km Avenue created 4000 years ago which connected Stonehenge to the River Avon.
The walk does not include access to the Stonehenge visitor centre, but it does get you close to the stones. You can always visit the site after the walk.
We will start from a small gravel car park, Fargo Road, Woodhenge. SP4 7AS.
Note, please arrive by 9.45 am we will set off at 10 am sharp for both walks.
MEETING PLACE (s): 
Day 1 – Broad Chalke village car park – click on this W3W link then navigate to the exact location using Google Maps.
Day 2 – Fargo Road, Woodhenge: Click on this W3W link, then navigate to the exact location using Google Maps.
WALK LEADERS: Lou Stuart & Julia Doherty
GRADE:: Both are moderate walks and good training for future AG hikes.
WHAT TO BRING WITH YOU
Sensible footwear is essential.
A drink. (water or flask)
Snacks/something for lunch.
An extra spare fleece or mid-layer
Rain gear
Hand sanitiser 
Personal first aid kit
RULES TO KEEP YOU SAFE :
We walk in all weathers, however, if we have a weather warning then the event will be cancelled.
Your walk leader is not allowed to carry personal possessions for you.  Please bring a bag with drink/pockets to carry keys/hats/gloves etc  (think about supporting the AG brand by purchasing an AG rucksack!). 
If you wish to bring and PPE, masks etc, please do.  All walk leaders will also carry sanitiser, protective gloves and the first aid kit.
ACCOMMODATION:
There are a variety of options for accommodation in nearby Sailsbury. and the surrounding area.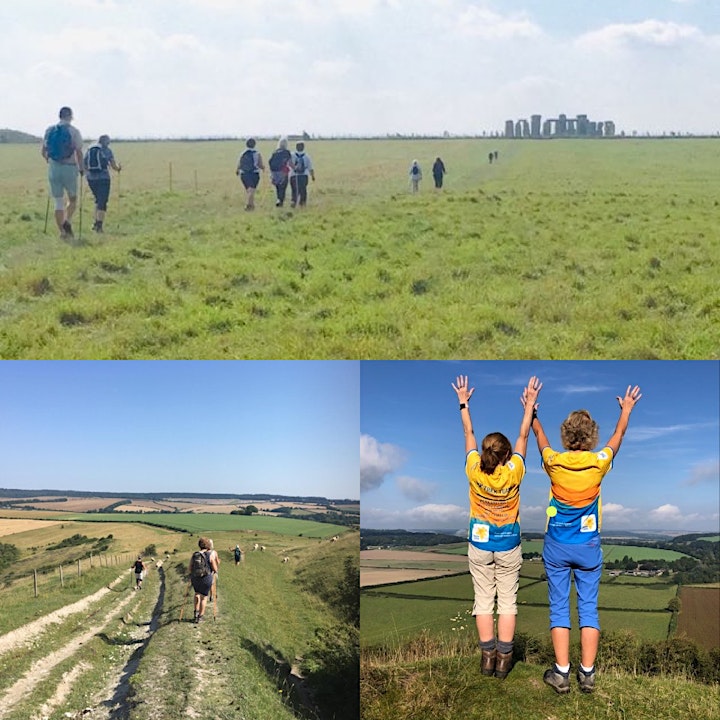 TERMS AND CONDITIONS
There are no permissions expressed or implied by the Adventure Geek organisers. Participants make use of the facilities at their own risk and without express permission from the Adventure Geek organisers.
Walking is a physically active sport. If you have any doubts about your abilities, you should always seek advice from your GP before embarking on an Adventure Geek walk.
By registering for an event you accept that you do so entirely at your own risk and that it is your responsibility to ensure that you are fit and able to take part in the event. We regroup often and our walks cater for all levels of fitness.
Children under the age of 16 years old are the responsibility of their parents or guardians and need to be accompanied at all times before, during and after the walk.
Adventure Geek volunteers do not accept responsibility for injury, loss and damage sustained by a participant unless the above injury, loss and damage are proven to have been caused as a direct result of negligence on the part of the organisers.
Dogs are welcome on the majority of our walks, however, we kindly ask that only one dog per walker and that the welfare of the animal remains your responsibility throughout your walk.  On occasion, we may add a note of "No dogs allowed" on specific walks (usually those with cattle), please respect this note.