ICONIC OXFORD CITY WALK & THAMES RIVER CRUISE | 6 MILES | EASY WALK
May 14 @ 9:45 am

-

3:00 pm

BST
Discover Oxford (old and new) with locals, Paul & Sue. This is a real adventure which includes a boat trip along the Thames…
ABOUT THE WALK:
This is a brand new walk for the AG portfolio and is being led by Paul & Soup Dumpleton. The trip will start and finish at the Pear Tree Park and Ride (£2 for parking). The walk includes an option to take a 40-minute boat trip along the Thames. The cost of the boat trip will be £9.50 payable on the day.
Oxford is a magnificent place to explore on foot – in fact that's the only way to see it properly. With its world-famous university, beautiful architecture, rich history and iconic movie locations you are in for a real treat. Enjoy a leisurely six-mile walk through the well known and not so well known parts of the City of Oxford.
This walk takes in some of Oxford's most treasured and popular sights, including the Bridge of Sighs (not to be confused with its namesakes in Cambridge and Venice), the 18th century Radcliffe Camera building and the Bodleian Library – one of the oldest of its kind in Europe. You'll pass prestigious university colleges and great pubs and enjoy stunning views of the ancient spires and domes that make up Oxford's historical skyline.
Fans of the Harry Potter movies will be keen to catch a glimpse of some of the movie franchise's famous filming locations, which include New College, Christ Church College and the Bodleian Library which doubled up as the library at Hogwarts.
The famous Lamb & Flag pub at St John's College (once best-known for hosting bare-knuckle fights) also appeared in Inspector Morse, while the entire city is recognised as the birthplace of Lewis Carroll's Alice in Wonderland.
The above is a small glimpse of what Paul & Soup will be showing you on this trail, along with some other hidden gems.
Please arrive by 9.45 am. If this is your first AG walk, then please arrive nice and early and seek out the walk leader who will be wearing a red "walk leader" pin badge.
MEETING PLACE: Pear Tree Park and Ride
Note: we often meet in places where there is no postcode, so we encourage you to use the What3Words app which will take you to the exact location.
WHAT3WORDS: https://what3words.com/prawn.ruffling.drift
Click the link above, then click "Navigate using Google Maps"
WALK LEADER(S): Paul & Soup Dumpleton
IS THIS WALK DOG FRIENDLY? Yes, this walk is dog friendly. (no extension leads please, and only one dog per human)
WHAT TO BRING WITH YOU
* Good trainers or walking shoes (and other clothes of course!).
* A drink.
* Hand sanitiser
RULES TO KEEP YOU SAFE :
We walk in all weathers, however, if we have a weather warning then the event will be cancelled.
We will only ever walk in groups of 15 or less. If we have more than 15, we will usually have two walk leaders and walk in opposite directions.
Sweets at the halfway stage – we call this "squidge and dip" – hand sanitiser, then dip in for your free sweets.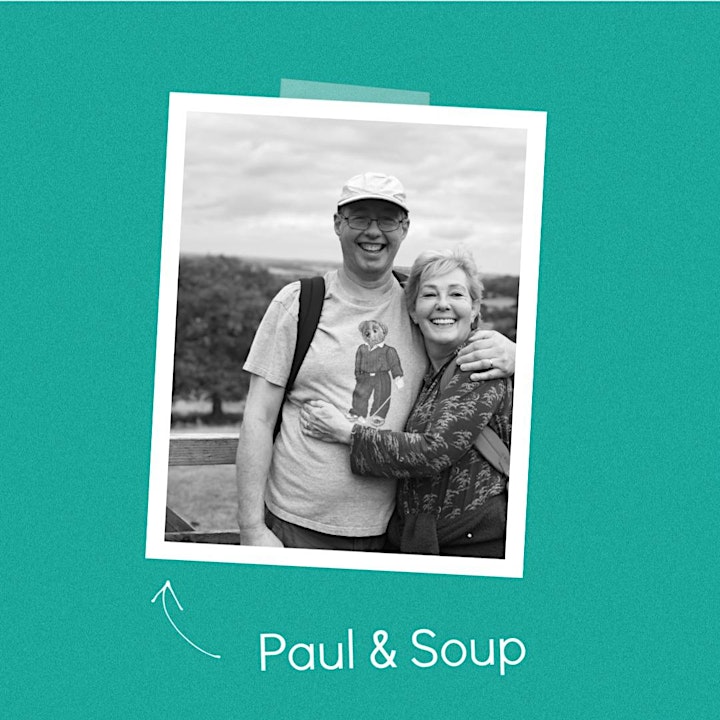 TERMS AND CONDITIONS
There are no permissions expressed or implied by the Adventure Geek organisers. Participants make use of the facilities at their own risk and without express permission from the Adventure Geek organisers.
Walking is a physically active sport. If you have any doubts about your abilities, you should always seek advice from your GP before embarking on an Adventure Geek walk.
By registering for an event you accept that you do so entirely at your own risk and that it is your responsibility to ensure that you are fit and able to take part in the event. We regroup often and our walks cater for all levels of fitness.
Children under the age of 16 years old are the responsibility of their parents or guardians and need to be accompanied at all times before, during and after the walk.
Adventure Geek volunteers do not accept responsibility for injury, loss and damage sustained by a participant unless the above injury, loss and damage are proven to have been caused as a direct result of negligence on the part of the organisers.
Dogs are welcome on the majority of our walks, however, we kindly ask that only one dog per walker and that the welfare of the animal remains your responsibility throughout your walk.  On occasion, we may add a note of "No dogs allowed" on specific walks (usually those with cattle), please respect this note.