Fancy a taste?
A Taste of the Camino Frances
Trek the Pyrenees, from France to Spain in just four days.
France & Spain
May & October Routes
Fly into Biarritz Airport in France.
The first section of the Camino Frances route takes you through the most stunning scenery of the Pyrenees, quaint Spanish villages and ending in a city full of history.  Over the next 6 days (4 days off work) you will experience a taste of the true Camino and all its glory.
Your hassle-free adventure includes:
4 days hiking
All accommodation will be booked for you (although you pay the vendor directly)
Luggage transfer bookings (if you don't want to carry your pack)
A guide on the ground to show you the way
And lots more (check out the costs section below)
Perfect for: 
Keen walkers who are looking for a new challenge with the experience of crossing the border of two countries, or for those seeking some "time out" of their usual busy lives.
A JOURNEY OF DISCOVERY
The scenery, the blisters, the bunkhouses and the pure joy. Click on the image to your left which will take you to the video series (vlog) of our 2018 Camino Frances Journey.  Or click here.
WHAT YOU NEED TO KNOW
Click on the links below to expand the answers to some of the burning questions that you may have before completing the booking process.
Some concerns you may have
Are you curious about the Camino de Santiago?  You have perhaps seen the TV series or heard someone talk passionately about this magical place and this has stimulated you to land on this page, but you are still not sure?
Adventure Geek specialises in facilitating an inexpensive week-long trip to sample everything about the Camino.  We have a full-time guide to help you and your small group of fellow pilgrims all the way.  From what to pack, to arriving at the foot of the Pyrenees, to drinking the best Spanish wine, experiencing the culture and spirit of the Camino.
As our client, you will experience this, and so much more.
No need to be anxious about:
Not speaking Spanish
Not being an experienced hill walker
Not being fit enough (we will give you a full training programme, but you really do not need to be super fit for this journey).
sleeping in hostels with other people (except for the first two nights).
No need to worry about bed shortages as all accommodation will be booked
Carrying your rucksack along the way
We guarantee:
You will feel prepared as you set foot on the plane as we will assist you with what to take, how much training you need and what to expect on your forthcoming Camino.
Full time, on the ground support/guide, to assist you in every way
Walk with a small group that you will meet before your trip.
Everything in Spain is organised for you.
That you will receive a daily information sheet so that you are prepared for the next day's hiking.
That you will have fun and experience a healthy, and often the spiritual journey that you will never forget.
That this adventure will fit most people's budget.
That you will get to spend time with YOU, which we all need.
Costs
Our weekly fees are:
£250 per person
£200 per person if you are an

Adventure Geek Club Member and have more than 10 stamps on your account.
The above price includes:
Booking luggage transfer (if you are not keen on carrying your backpack)
Organising your accommodation (be aware that the first two nights you will be staying in a hostel, however subsequent accommodation you may want to upgrade to a private room).
An experienced walking guide/host (or two!), with a daily briefing and relevant documentation for the day (meeting points etc). We will accompany you from your arrival in Spain, all the way to your flight home (to the extent that you wish)
Medical support for minor medical needs. (All guides carry a first aid kit and are first aid qualified).
A walking tour of the bull-run in Pamplona
Pre-trip briefing (includes meeting your fellow pilgrims, workshops, painting your stone, and a pack shakedown).
Camino induction pack, which includes a guidebook, Camino Shell, Camino Credential and a packet of poppy seeds.
Certificate of completion of the first stage (Adventure Geek Certification).
The above price does not include:
Our prices are "pay as you go", so although we book your accommodation, luggage transfer etc, it will be your responsibility to pay for this on the day directly to the service provider. Spain is very much a cash country.  We recommend a budget for around €30-€35 a day.
Flights (although we will recommend certain flights)
Bus and transfer fees are not included.
Food – your eating preferences are absolutely your choice. You choose where/when/what you eat.
Accomodation
Adventure Geek will book all of your accommodation for you, which is paid directly by you to the hostel or hotel.  The Camino caters to everyone's needs, from basic bunkhouse type accommodation to five-star hotels.  Everyone will need to stay in a hostel at least twice as the Pyrenees and Roncesvalles only provide this basic type of accommodation.  We feel that you get a true sense of the Camino sleeping in the hostels, but we appreciate that it is not for everyone.
Once you have booked your Taste of the Camino break, you will receive an email asking you to complete your preference for accommodation (along with approximate prices).  I urge you to consider a variety of accommodation as this adds to the sense of adventure.
Approximate prices:
Bunkhouse – from €5 – €12 per person (told you it was cheap!).
Single Room – from €35
Double Room – from €35 (for the room)
Triple Room – from €60 (for the room)
The Adventure – Why do people walk the Camino?
Historically, most people undertook the Camino de Santiago as a religious pilgrimage.  Nowadays, whilst many still have religious reasons for doing so, a significant number of pilgrims are not religious and have other reasons for walking the Way.
Here are a few aspects of the Camino De Santiago that make the whole experience unique:-
Time to think:
In our everyday lives, we get very little time for reflection and thought. When all you need to think about is walking, sleeping and eating then you find that you have plenty of time for reflection and thinking about stuff.  Or sometimes, you will find that you have walked a few miles and not actually had a single thought about anything.  It's very hard to explain, but this is one of the magical aspects of this wonderful place.
The scenery:
The Camino offers such a variety of scenery.  From cute Spanish villages with their wooden window boxes and glorious flowers to rich mountains full of wildlife.  From vineyards to forests, there is something for everyone.
The people you meet:
Everyone is walking in the same direction, but they come from all over the world.  It is a place where you are not judged by the size of your house, the car that you drive or what you do for a living. It is a place where your ego is left at home.  Everyone is in the same boat.  You are all wearing walking clothes, you all have rucksacks, you eat the same food, yet you all have different stories to tell. Most people walk the stages as written in the guidebooks, therefore you get to see the same people at café's or hostels each day.  The friendships made on the Camino are known as your "Camino Family" and they often become friends for life.
The weather:
The Adventure Geek Camino Tasters will be between May to October, and we are more-a-less guaranteed relatively warm weather (in UK terms!).  You are also heading west each day which means the sun is always on your left.  You can spot a Pilgrim as we tend to develop a one-sided suntan!  Please note that it does also rain in Spain… quite a bit!
Clarity about your future / solve that problem:
People walk the Camino for all sorts of reasons.  It may be a simple physical challenge, or you may be at a crossroads in your life and need to ponder on the issue before making a decision.  Many people also walk as they are grieving (the loss of a loved one, or perhaps a break up of a relationship).I have heard that many stories where people did not even know why they were called to walk the path but felt that they had too. Not everyone is religious, but most people have an open mind and find clarity in their situation whilst walking The Way.
About the Camino (A bit of history)
Back in Medieval times, thousands of pilgrims walked the Camino Frances (known as The French Way) in order to reach the Tomb of the Apostle St James at the Cathedral in Santiago.
Many have been inspired to walk the Camino Frances route by the popular movie The Way, starring Martin Sheen and directed by his son Emilio Estevez (if you have not seen this film then I urge you to download it from Amazon as soon as you can). Books such as Journey of the Spirit by Shirley MacLaine and Paulo Coelho's The Pilgrimage have also nurtured a new enthusiasm for the Camino Frances, and indeed the entire Camino de Santiago.
The beginning of The French Camino starts in St Jean Pied De Port at the foot of the Pyrenees.  The atmosphere in St Jean is very special, full of enthusiasm, spirituality and excitement from pilgrims from all around the world!  Many people walk the last part of the Camino in order to gain their certificate of completion (known as a Compostela) from Santiago, however, we feel that starting at the very beginning of the Camino gives you the true experience.  You can always return to continue your journey over a period of time if you would like your compostela.
What is the itinerary and how far do I need to walk?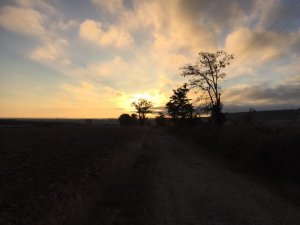 You have booked your plane ticket, your rucksack is the ideal weight, your walking boots are well worn in and you have completed your training.  You have your Camino Credential (passport) and your shell is attached to your backpack and you are ready for the off!
What happens next?
Saturday – Arrival Evening

Time
Itinerary
TBC
Arrive at Biarritz Airport (alternatively, you can meet your guide at Stansted Airport in the UK).  Train or bus from Biarritz to Bayonne – stay overnight and have time to explore this wonderful town.
Day 1 – Bayonne to St Jean Pied De Port to Refuge Orisson (5 miles walking)

Time
Itinerary
AM
7.45am – get the bus from Bayonne to St Jean Pied De Port

11.00am – get our first stamp at the pilgrims office and spend a little bit of time in St Jean Pied De Port.

PM
Start walking, taking it very slow and steady with lots of breaks.  This first day is probably the hardest day of the whole Camino Frances route.  It is only 5 miles, but a very steep five miles!

Refuge Orisson – this hostel has been pre-booked.  So time for a nice hot shower and relaxing on the veranda overlooking some of the most spectacular views that you will ever see.  You will be in awe as you treat yourself to a well-deserved glass of something and pat yourself on the back! You did it!  You climbed a mountain!

The evening you will experience your first Pilgrim meal, after which we will have our daily briefing for the next day. We order our lunch for the next day (unless you bought food at St Jean), and then it is time for bed.  The accommodation is a comfy bunk bed that you will be sharing with your fellow pilgrims.  You are about to experience the pilgrim song!
Day 2 – Refuge Orisson to Roncesvalles (17km/10.56 miles)

Time
Itinerary
AM
7.30 Latest – Depart early as we have a long day ahead of us.

Today we walk over the top of the Pyrenees and cross the border into Spain.  We will see wild horses, lots of sheep and buzzards.  You will hear the sound of cow bells constantly and you will feel truly alive.  Your legs may be a little sore from yesterday's steep walk but it feels strangely good! As we descend through a forest trail into the small Spanish village of Roncesvalles you will marvel at the monastery where we will be staying tonight.   This hostel is very modern and is set into pods of four bunks.  Everyone has their own light, power source and locker for their backpack.

PM
The evening is yours to do with as you so wish.  You can explore the village, attend the evening mass in the wonderful church and of course enjoy an evening meal.  Many pilgrims take advantage of the pilgrim meal offered at one of the two restaurants in the town.  Meal tickets for the evening meal can be purchased at the hostel when you are checking in.

We will agree a time for a quick debrief and explain the plan for the following day.
Day 3 – Roncesvalles to Zubiri (22km/13.5 miles)

Time
Itinerary
AM
At this stage you may feel that you would like to leave on your own, or with a few friends.  If you would like to walk with the guide then we will be leaving approximately 7.30am.

We take the short 2 mile walk to the next village before indulging in a scrumptious breakfast and hot café con leche.

This section of our route works its way steadily downwards as we head out of the Pyrenees.  Undulating terrain and woodland paths through small villages are the highlights of the day, including many café stops along the way.

PM
Depending on your choice of accommodation will determine where you are booked in for the night.  The evening is your own to decide what you would like to do.  There is the church service and a choice of many bars and restaurants in this small town.  Catch up with friends and attend the daily briefing before retiring to bed.
Day 4 – Zubiri to Pamplona (22km/13.5 miles)

Time
Itinerary
AM
Again, if you wish to leave at your own time then just let us know.  We will catch up with you (or you will catch up with us) along one of the café's on route, or in Pamplona later in the day.  Take the time to explore the many Spanish towns and villages along the way.

The walk today is relatively flat with the first section on rural tracks.  The second half of the walk being the suburbs of the city of Pamplona, which takes you through a beautiful riverside park.

PM
Pamplona is full of culture and is a rather large city.  You can feel the energy as you walk into the centre and you will see pilgrims rucksacks with the shell attached at every corner, and every bar.  It brings an atmosphere that you can't help but get caught up in.  There is so much to do in Pamplona but we also have a good part of tomorrow to explore this city.  You will be tired from your day of walking, so it is time to enjoy a good meal, purchase your gifts for loved ones back home and reflect on your time on the Camino.

We will meet up at a designated time for a debrief of scheduled events for tomorrow about 6pm.
Day 5 – Pamplona – Bilbao

Time
Itinerary
AM
If you would like to join us for a guided walk of the bull run then this is scheduled for XX.
PM
We will meet at XX for the bus to take us back to Bilbao where we catch our flight home to London.
Terms and conditions
Booking Registration Process
Whilst Adventure Geek will do its utmost to arrange trips for clients in accordance with their wishes as articulated in the Booking Registration form which they complete at the time of booking, sometimes this is not possible due to limited availability of accommodation of a specific type/price/layout.  In these circumstances, bookings will be secured for the arrangement which in the view of Adventure Geek, most closely matches the preferred choice of the client. Adventure Geek does not accept responsibility for any deviations from the indicated preferences of the client, which may occur as a result.
Payment of the Adventure Geek fee
To secure a booking clients are required to:
Complete the booking registration process
Pay a non-refundable deposit of the first £150 of the Adventure Geek fee for each person in the party. The remainder of the fee for each person is payable two weeks before the first day of the trip.
Travel to/Arrival in Spain
On receipt of formal confirmation of their booking, clients should immediately book the relevant flights to and from the arrival point advised by Adventure Geek to ensure availability.  In the event that any of these flights have been booked out, there are other flight options to alternative airport in Spain and France.  These alternatives involve a subsequent transfer via bus/train and consequently may be subject to a higher cost than the indicative costs quoted on the Adventure Geek website. Clients are therefore encouraged to book early.  In the event that an alternative route is required to be taken, Adventure Geek will do its utmost to facilitate this.  However, Adventure Geek accepts no responsibility for loss/delarys/inconvenience caused as a result of lack of availability of suitable flights as such circumstances are outside of our control.
Clients arriving from Stansted or Gatwick on the Saturday will be met at the airport indicated at the time of booking.  Specific arrangement will be made in response of clients arriving at other times/from other destinations.  This may result in them for example, being requested to make their own way from the airport to a designated meeting point/hotel to enable them to join the rest of those taking part in the same adventure.  Whilst Adventure Geek will make every effort to ensure that arrangements are made to bring the group together as quickly and economically as possible, we accept no responsibility for any delays/losses/costs which may arise as a result of clients arriving on flights other than the aforementioned scheduled flights from London.
Cancellation
Adventure Geek reserves the right to cancel, or change any trip if it is considered a necessity.  Individual trips will always go ahead if there are six or more people booked on them.  In the unlikely event that a trip is cancelled due to inadequate numbers, we will advise you as early as possible, will endeavour to offer an alternative date, and if this is not possible, will ensure that all monies are refunded.
In the event of the client needing to cancel their trip, no refunds will be available and the client undertakes in such circumstances to pay the balance of their Adventure Geek fee irrespective of the fact that they have been unable to partake in their trip. They will also be liable for any loss incurred by Adventure Geek which may be applied by the accommodation/other providers which Adventure Geek cannot recoup.  To avoid loss due to circumstances that may arise resulting in a client needing to cancel a trip, clients should take out Travel Insurance at the time of booking.
Insurance
It is a condition of the booking that all clients have adequate travel insurance that covers them for a walking holiday.  Clients should ensure that their insurance covers illness, injury, death, emergencies arising at home, loss of damage to personal property, cancellation and personal liability.  By participating in an Adventure Geek organised trip, clients are confirming that they have insurance that covers the above.
In the event of needs arising, Adventure Geek organisers will do all in their power to assist, however, all costs will be borne by the client and it is their responsibility to check that they are adequately insured.  Adventure Geek will not be responsible for costs/inconvenience arising from any  injury/mishap/incident/illness that a client may experience whilst on an Adventure Geek organised trip.
Fitness levels
The sections of the Camion De Santiago route are deemed to be of moderate difficulty.  It is expected that a person with a basic level of fitness would be able to complete each day's walk without difficulty, subject to a small amount of preparation in advance. As part of the services provided by Adventure Geek in advance of its trips, advice will be given regarding some recommended physical preparation prior to departure.  There will also be an information evening arranged prior to departure where full advice will be available and personal queries will be dealt with.  Clients are encouraged to follow all advice given in respect of personal preparation and to attend the information evening in order to ensure they get the maximum enjoyment from their adventure.  Adventure Geek accepts no responsibility for illness/injury/loss arising as a result of exertion, either on or after an Adventure Geek organised trip.
Luggage / Rucksacks
We suggest that you travel as lightly as possible.  Dress attire on the Camino is generally very basic and pilgrims are not too concerned about the latest fashions. Please remember that what you bring will need to be either carried whilst walking, or transferred from town to town via a luggage transfer service.
Luggage for transfer should not weigh more than 14kg.  If carrying all of your belongings in a rucksack on your trip (which many people do), you should note that the recommended maximum weight is no more than 10% of your body weight, and definitely no heavier than 10kg.
If utilising baggage transfer, you should still bring a light day-pack to carry raingear, basic media needs, water, camera, wallet, phone, food etc.
As you will be undertaking transfers from airports/between cities etc, you should ensure that you can lift your own luggage as needs be.  Should any of your personal possessions be lost/damaged for any reason/at any time during your Adventure Geek organised trip, you are personally responsible for any additional costs incurred in the recover/replacement of these.
Accommodation
The Camino supports a whole range of accommodation types, from basic hostels to 5 star hotels.  It is worth noting that an upmarket hotel in Spain is rather different to an upmarket hotel in other parts of the world (UK, USA etc).  All accommodation with exception to some hotels in the big cities and larger towns would be considered quite basic.
Even the upgraded hotels may not have a TV, internet, kettle etc.  All accommodation booked with Adventure Geek will be in accordance with your preferences stated in the Booking Registration Process.  However, this is subject to availability of accommodation.  Where accommodation cannot be secured exactly as sought by the client, there may be times where a slight variation to this may be necessary.  For example, a client may have requested their own ensuite, it may occasionally happen that the only availability left at a similar price, is a bedroom where the clients will need to share a bathroom with one of two other pilgrims that are on the same floor).  Adventure Geek will go to great lengths to secure accommodation exactly as sought, but in the event that variations become necessary/accommodation is deemed to be of a standard lower than expected, Adventure Geek accepts no responsibility for loss/inconvenience which might arise as a result.  Early booking is always considered advisable.
Please note that the first section of the Pyrenees there are two nights when clients will be accommodated in hostels / bunkhouses.  This is unavoidable as there are currently no other options available.  With the Pyrenees trip you will feel a sense of the true Camino as the Albergues are part of the experience which you will talk about for many years to come.
Solo Travellers
We very much welcome solo travellers who wish to book an Adventure Geek organised trip.  Our trips provide friendship, support and a community spirit for all those travelling and are consequently deemed idea for individuals/small groups of friends alike.  It should be noted that in Northern Spain, there are very few single-bed rooms available.
At the time of booking, clients are requested to complete a booking registration form, which includes your accommodation preferences. ON this there is a possibility that individual travellers can ask to be accommodated in a two (or even three) bedded room with others of the same sex who are similar happy to share a room (thereby reducing the costs considerably).  Where a number of clients have opted for this arrangement, we will do our best to organise that, however this will always be subject to availability.  Consequently, it is possible that the accommodation for an individual travelling on their own, will be higher than the indicative prices mentioned on the Adventure Geek website.
Programme Changes
Our website outlines the programme for a typical Adventure Geek Camino Taster trip.  The plan is to try and adhere to this as closely as possible.  On occasions, circumstances may occur that will change the programme.  This may be for a number of reasons including weather, path maintenance problems, accommodation changes etc.  Adventure Geek reserves the right to change the programme should such circumstances necessitate.  Adventure Geek will not be responsible for loss/inconvenience as a result of a programme amendments necessitated for these or other reasons.
Your guide
In the event of unforeseen circumstances arising which result in the temporary incapacitation/unavailability of your Adventure Geek Camino Taster guide for more than a continuous 48 hour period of your trip, (e.g., the temporary illness of injury to your guide: family bereavement: other unexpected occurrence), arrangement are in place for a replacement guide well experienced in the Camion De Santiago to take his/her place temporality.  This may take a short period of time to implement, based on flight availability, location of the walking group etc.  Every effort will be make to ensure a replacement guide is on the ground with the group as a matter or urgency.
During the absence period, telephone contact will be maintained with the members of the travel group and all local arrangements with baggage transfer companies/hotels etc. will be co-ordinated/implemented by appropriate phone contact to ensure that any disruption / inconvenience arising is kept to a minimum.
Clients accept that such disruption may be unavoidable and agree to exonerate Adventure Geek from any liability for loss/inconvenience arising as a result of these type of unforeseen circumstances.
Communication
Each group will either have a private Facebook Group, or a WhatsApp Group (dependent on the group choice).  This will be agreed at the pre-trip briefing. As part of the booking process we will also be asking for your email address, emergency contact details of next of kin, full postal address and of course your telephone number.  Rest assured, we will not share your private information with any 3rd party, with exception to accommodation and luggage transfer suppliers.
Service providers – responsibility
Adventure Geek is a facilitator of organised trips that brings people on a guided tour of the Camino.  As such, it relies on 3rd party businesses to provide services/accommodation etc. for its clients.  Every effort is made by Adventure Geek to ensure that the products/services of these third party providers are of a good quality.  In the event that any such products/services fall short of the expectations of a client, Adventure Geek will do all in its power to try and rectify the situation on behalf of its client.  However, Adventure Geek does not accept responsibility for inconvenience/costs that may arise as a result of a client being dissatisfied with such services/products.  The contract for these services rests between the client and the relevant service provider directly.
Service providers – costs
In participating in an Adventure Geek Camino Taster organised trip, clients agree to pay direct to the service providers all their costs in a timely manner/when asked to do so.  Costs of all service providers in Spain are payable by the clients of Adventure Geek direct to the relevant provider at the time of use.  For example, each night hotel bill Is payable by our clients on arrival at checking out of each hotel, direct to the hotel itself.  Note, not all hotels in Spain accept credit cards, so it may be necessary to have some cash available to cover such eventualities.
Baggage transfers are payable daily on a "per bag per day" basis.  In participating in an Adventure Geek Camino Taster trip, clients undertake to ensure that they have funds available to facilitate all payments for service providers at the time of use.
Equipment
When you have paid your deposit you will receive a recommended packing list for your forthcoming trip, along with advice about footwear, raingear weight etc.  During the pre-trip briefing we will conduct a pack shakedown (which means that you bring along your fully loaded rucksack to the event, and we will work with you to make sure that your pack and its contents is optimised for your comfort).
Adventure Geek can only advise, and accepts no responsibility for loss/injury to anyone as a result of them having inadequate clothing/equipment.
Videography and Photography
If you have seen any of the content provided by Adventure Geek, then you will know that video and photography is a big part of what makes our adventures special.  The guides and other clients will often take photos and video.  Our guides will always be respectful of people's personal requests and should you NOT want to be photographed or recorded in anyway, then please let the guide know at the beginning of your trip.
Photos and videos taken of the group enjoying their trip/or against beautiful background scenery etc many be used by Adventure Geek on its website and social media outlets.   Clients agree to such photography / use of their images in this manner when they book an adventure with Adventure Geek, however we will do our best to limit exposure to those who have made a point to tell us that they feel uncomfortable with this process.
Departure from the group
In the unlikely event that a client should decide that they wish to depart from the group permanently for any reason during the trip (for example, they discover they can cover a greater distance than the group is doing each day or they decide that they don't like walking each morning and prefer an afternoon departure etc), it is a condition of booking that they pay any costs that may be incurred as a result of bookings that have been made on their behalf by Adventure Geek having to be cancelled.  Client s accept that these costs are recoverable from/payable by them, inclusive of any additional cancellation costs that may arise (including all costs incurred by Adventure Geek) as a direct result of their decision to leave the group.
They will also be required to sign a form acknowledging that Adventure Geek is no longer responsible for any aspect of their vacation arrangement, personal well-being, or safety.
Complaints/Grievances
In the unlikely event that a problem or complain arises, please advise your guide immediately.  Adventure Geek will then do all in its power to rectify the situation for you.  Should you still be dissatisfied please write to Adventure Geek a the company's registered address, no more than 14 days after the completion of your organised trip.
Your complaint will not be dealt with in the absence of this process being followed.
I am interested in the Camino Taster